About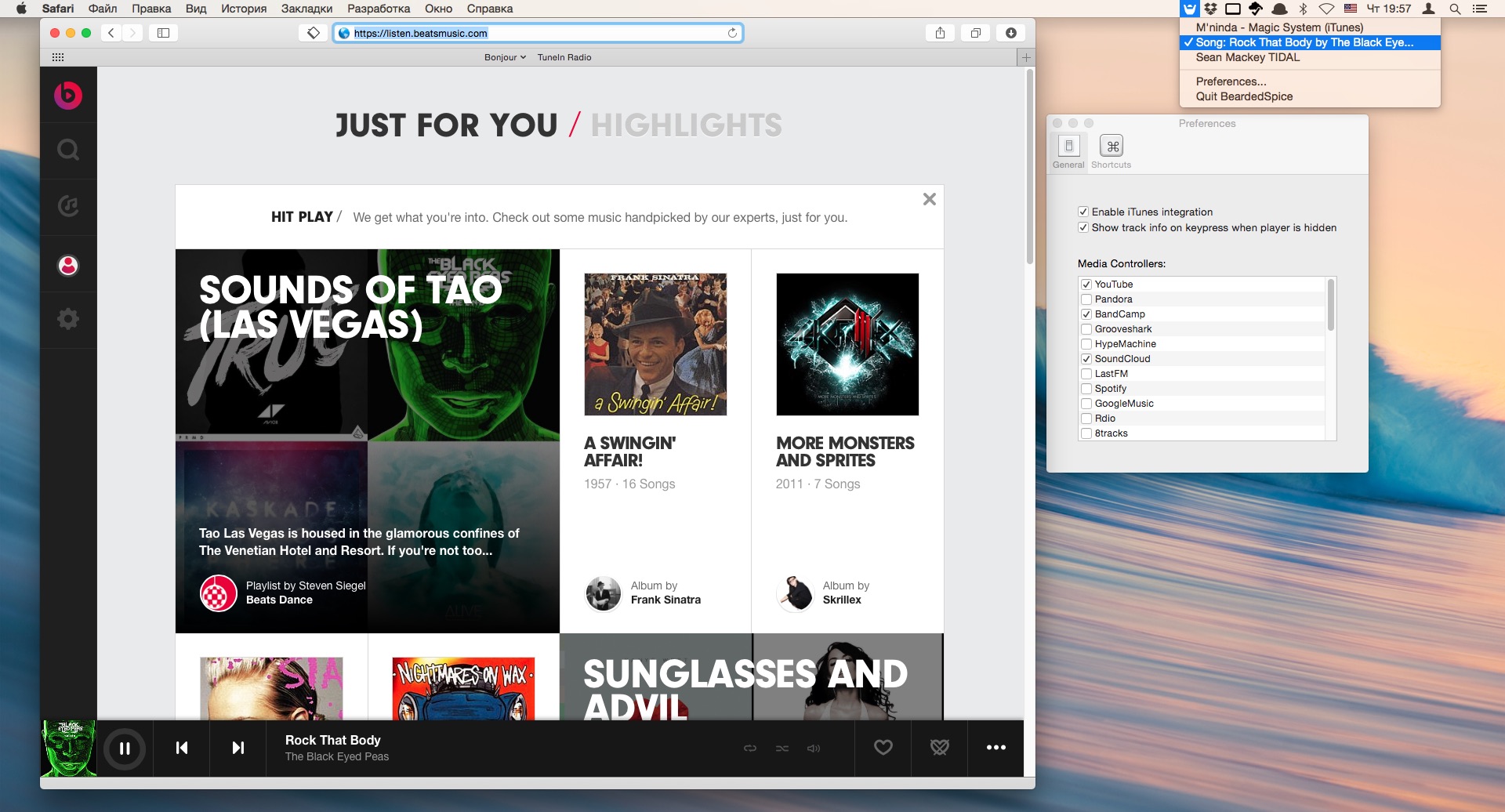 BeardedSpice is a menubar application for Mac OSX that allows you to control web based media players and some native apps with the media keys found on Mac keyboards. It is an extensible application that works with Chrome (Canary, Yandex, Chromium) and Safari, and can control any tab with an applicable media player.
Supported Mac OS X applications
Supported Sites

If you want another supported app, simply open an issue with the tag 'app support'. Or, if you are feeling extra feisty, implement the handler yourself!

Read about the implementation of the Handler here.
Features
Smart Mode

BeardedSpice tries to automatically guess which tab it should control for you. When you press any media key or BeardedSpice shortcut with BeardedSpice open, it will automatically control the site currently playing media. If you have no playing sites, it will try to control the currently focused tab (if it is one of our supported sites). If BeardedSpice failed to do either, it will automatically control the first.
Automatic Updates

No more checking for new releases on our website, BeardedSpice will automatically notify you when a new release is available.
Keyboard Shortcuts

BeardedSpice comes with a handy list of Keyboard Shortcuts that can be configured under the Shortcuts tab of BeardedSpice Preferences (available through the menubar icon).
Multimedia keys of non-Apple keyboards

Using a 3rd-party keyboard? Or even a keyboard with no multimedia keys? No problems, BeardedSpice allows you to set your multimedia keys under the shortcuts tab, so you can use any key (or key combination) of your liking.
Disabling certain handlers

From the preferences tab, uncheck any type of webpage that you don't want BeardedSpice to have control over. By default, all implemented handlers are enabled.
Download

Download the latest release, or find previous released binaries here.

Also you can find older releases here.

Mac OS X 10.9 or greater required.